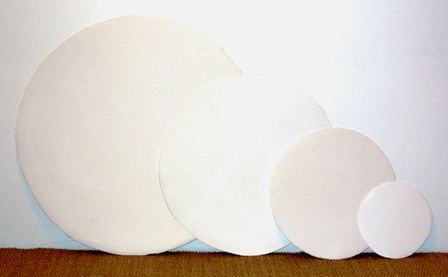 Une rareté : le "tondo" / A paper rarity
Son nom vient d'Italie, où les petits tableaux circulaires avaient la faveur des grands artistes de la Renaissance ; il est une abbréviation de "rotondo", rond ; au pluriel on peut dire des "tondi" ou des "tondos", au choix. L'atelier qui nous le fournit est le dernier à produire ces feuilles selon la méthode ancienne : à partir de chiffe de coton et à la main dans une cuve de grande taille. C'est un papier carteux de 400 g/m², dont le bord unique est à la forme et le grain torchon. Il n'existe qu'en quatre tailles : 300, 500, 700 et 900 mm (diamètre).
Its name comes from Italy, where small round paintings were a fancy of Rinascimiento great masters. We are proud to offer these sheets, made by the last workshop maintaining such a tradition. Pure cotton, handmade, deckle edge, rough surface, 400 g/sqm, four different sizes: 300, 500, 700 et 900 mm (diameter).